Post by Owlsight on Sept 5, 2016 23:25:42 GMT
Out Of Character
Name/Alias: Delhya
Age: Getting up there
Location/Timezone: East coast
Experience: Many years of DnD and other RPGs, LARPing, EQ forums
How You Found Us?: >Evil grin<
In the event of unexplained inactivity, should we adopt out or kill off your character?: TBD
In Character
Name: Owlsight
Heritage: JWR
Soul Name: Xarye (Zah-RYE)
Preserver Name: Far-eyes Highthing
Title: Scout/Hunter
Age: 75 (young adult)
Gender: Male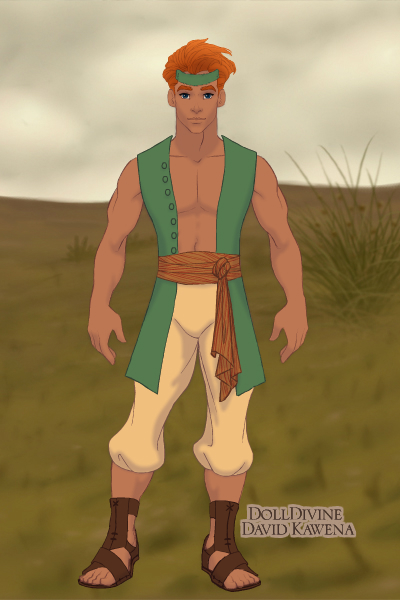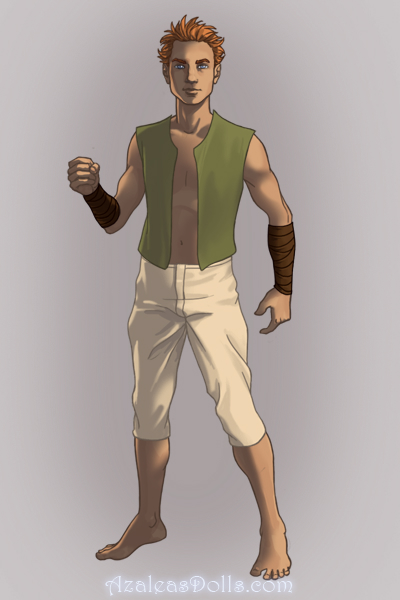 Face Claim: TBD
Hair: Dark orange red faded lighter at the ends from the sun. It is upswept (like Krim's) and held with a woven grass headband he made.
Eyes: Dark Blue
Height/Build: 4'1 muscular (so a little heavier than he looks)
Skin: Medium tan
Clothing:
Colors. Light greens browns and natural leather. Prefers sandals or barefoot.
Warmer climate: A sleeveless open tunic Loose fitting pants with sandals or barefoot when just around camp. Sometimes will wear leggings instead.
Colder climate: Short sleeved closed tunic, Pants and boots (begrudgingly) maybe a short fur lined cloak if really cold.
Personality:
+/- Generally mischievous
+Always smiling and trys to get others to
+Cheerful and fun loving
+ Good natured
+ Leaves secret gifts for folks when he finds something they'd like. Or little woven trinkets.
+Protective of those he cares about but not overbearing with it.
+Slow to anger
+Bit of a clown. Would borrow a Maidens outfit and wear it to a festival to dance (or whatever parts would fit. Veils, jingles and skirt).
-Boisterous
-Can speak his mind a little to bluntly at the most inopportune times
-Distracted daydreamer (unless kept focused by a task or person)
-Lazy around mid day (Nap time!)
-Pokes the grumpy tribemates when he thinks they are being too stiff
-When actually mad takes a bit to cool down
Advanced Skills:
Type: Farsight/ Lightfoot
Strength: strong/excellent
Description of Talents: Owlsight as his name suggests has always had a keen eye. As he grew older his mother realized his aim with bow and spear was a byproduct of his gift of farseeing.
Skills: (weak/average/strong/excellent)
Sending: Above Average
Climbing: Above Average
Dancing: Strong (He is nimble and a fast learner. Weak when drunk though he thinks it's Excellent)
Drinking: Average
Fishing: Weak (but with his stubbornness he has fed himself this way.)
Fletching: Weak (But willing to learn)
Flint Carving: (Arrow/Spear heads) Above average
Gathering: Average
Hand to hand: Average (he's strong and agile but has no tactics in it yet)
Herb Lore: Average
Horsemanship: Very Weak
Hunting: Strong
Leather working: Weak
Medicinal anything: Weak (ACK someone's bleeding! Um OH! Pressure, apply pressure)
Navigation: Below average (Think Ryoga from Ranma 1/2 He'll get there but may not be the directest route. Luckily his wolves have better insight)
Rope making: Above average (very functional not likely to break He will get better after more practice)
Running: Above average (his argument for why he does not need to learn how to ride a pony!)
Skinning: Average
Scouting: Excellent
Sneaking: Excellent
Swimming: Average
Tracking: Excellent
Weaving: Average (Shows talent in it but simple functional baskets and trinkets more of a pass the time Hobby and a reason to flirt with Selecia)
Weapons:
-Bolas: Above Average (Rope he made with stones he rounded out)
-Bow: Excellent
-Spear (melee/throwing): Strong/Excellent
-Sword: Weak
Likes/Dislikes/Phobias:
+Dancing
++Dreamberries/Wine
++Festivals
+Furring and flirting (either order)
+Hunts
+Listening to the general chatter of the tribe
+Music
+Pestering Briarbloom (when at that Holt) Preservers are kind of neat when they don't spit at you
+Pranks (receiving or giving in good nature)
++Stargazing
+Stories
---Finding his ropes unwound by Tanglesweet
-Fish/fishing
-Gathering
--Ponies (does not trust them TBD reason in rp)
-Setting up tents (What's wrong with sleeping under the stars? Okay Fine.)
-He is very ticklish still even as an adult. He has kept in on the down low pretty well. It is a very effective way to either move him or have him fess (pranks) up to something. Luckily for him very few tribemates know about this.
-Uptight tribemates. (Relax a little, seriously)
Family/Friends:
Father: Longtooth (Adoptive)
Mother: Windgrace
Siblings:TBD
Lifemate: (I'm too young for that!)
Lovemate: Open
Furmate: Anyone
Cubs: None
Freesharer: Yes, Open M/F
History: It is uncertain if Longtooth is Owlsights father by blood but he always had been in presence. Windgrace only had a couple furmates during time Owlsight was conceived. Being the other male never stepped forward Longtooth adopted Owlsight so that the cub would have a father figure.
Owlsight was name thus for his owllish gaze as a cub. Ever the curious & cheerful elf Owlsight often jokes and takes very little seriously if he does not need too. His mother is often scolding him to "Straighten up and be more responsible!" She is a excellent pony rider and warrior. He however prefers scouting and a more laid back attitude unless things are really serious and then he'll step up. He just finds he does not need too with the current lull and lots grumpy adults.
Owlsight escorted Longtooth to Stone hold after the aging Chief lost to Tusk. He stayed at the cavern home to pass winter and then met back up with the caravan once the thaw hit.
Animal: Jackwolf
Name: Frostfell (Omega) Owlsight cared for her as a cub some as a cub being she was the clumsiest ball of fluff he'd ever seen. She is very loyal to him and is playful in general. As a cub she had a white halo of puppy fuzz hence her namesake and youthful clumsiness. She darken as she grew older and the name fits mostly in her clumsiness.
Age: 5 years
Coat: Sandy brown with gray and black top line Gold eyes
Animal Picture: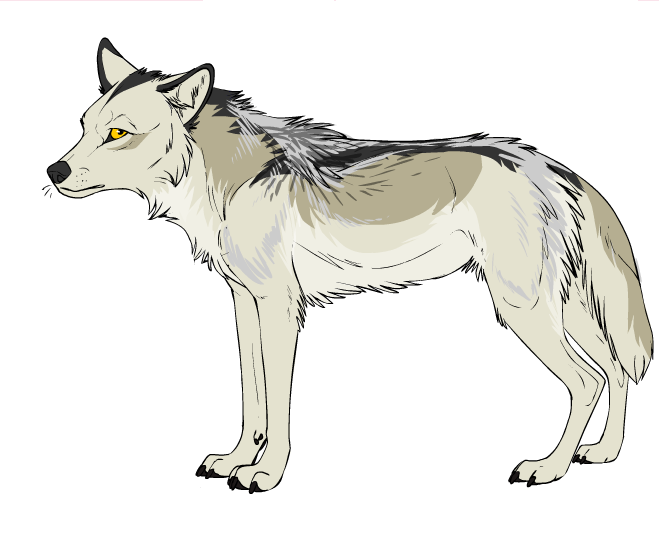 Canyon Home description: (optional)
Canyon Home Picture: (optional, please no large formats)
Tent description: (optional)
Tent Picture: (optional, please no large formats)
Any other information: Left handed